I want glasses like Bill Nighy.

I think it's time for another (drum roll please) film review, so today I chose Page Eight, a political spy thriller, written and directed by David Hare in 2011 and a made-for-BBC movie, but still a very clever and exciting film to watch. I tend not to like made-for-TV stuff but this really impressed me and I didn't realise it wasn't a "proper" film until I watched the DVD bonus material. I don't often watch the extra features but they were actually quite interesting, explained the complicated plot and had interviews from most of the cast; including the very cool Mr Bill Nighy (The Boat That Rocked, State of Play.)

Felicity Jones
(I love this outfit!)

Onto the actual film: It started with what felt like a lot of build-up scenes; introducing the characters, setting up the action and giving you what you needed to know to understand what was going on. The first scene that felt like part of the plot rather than the introduction, was when Johnny Worricker (Nighy) attends his daughters art show. Julianne (Felicity Jones, Chalet Girl, Like Crazy) as a character, was a very resentful and frustrated young woman. She is angry with her father for his treatment of her and her mother and tries to shock him through both her painting and the way she lights a cigarette, as though daring him to stop her. It's a recognisably teenage gesture and establishes how their relationship causes her to return to moody and angry behaviour. "Do you have any honest relationships?" is her best line as it sums up the question of trust and truthfulness in any spy film and through Johnny and Julianne's relationship we learn about Johnny's life and what he regrets.
Another theme in this film is the idea that the world has changed. Johnny notices that many characters tell him that "it's the 21st century"as though he hasn't noticed. His colleague Jill is even clearer about the change in the system and questions Johnny's idea of "pure intelligence," beginning the suggestion that someone is manipulating the characters throughout the film. Jill, played by Judy Davis, is even more fierce than Kristen Scott Thomas in the recent
Salmon Fishing in the Yemen
and illustrates the new generation of spies taking over from Johnny and Benedict, his oldest friend played by Michael Gambon. Ben runs MI5, likes going to choir practice, is married to (one of) Johnny's ex-wives, Julianne's mother Emma, and has one of the funniest scenes in the film, where he talks to the bitchy Home Secretary (Saskia Reeves). Their dialogue and banter adds some light relief to a tense scene. He also gets a lot of very Dumbledore-ish lines in about distrust being a disease or something. My favourite Dumbledore was Richard Harris though and every film I see with Michael Gambon is always improved by not comparing the two of them.
Benedict and Johnny.
Judy Davis is really scary as Jill Tankard.
The humour is ended abruptly by Johnny posing the question: Who has actually read the file? The line embarrasses everyone in the meeting because the file is really long and no-one knows where the important bit is.. which is where Page Eight comes in. Or rather one line on page eight but I won't spoil it. By this point I was too busy trying to keep the plot strands straight in my head to be able to coherently descibe what actually takes place. I was trying to watch it critically and think of questions about it but I'm still not totally sure I understood it!

Rachel Weisz (Nancy).

I thought music played a big role as it sort of linked the scenes together and also is Johnny's one interest as he loves jazz music and buys a CD for Rachel Weisz' character: the mystery that is Nancy Pierpan. Is she Johnny's "honest relationship" or is she one of the many women he falls in love with? Her character also has a more sinister edge in that we aren't sure whether she is a construct; "the perfect neighbour" who is using Johnny for information. Rachel Weisz (The Deep Blue Sea) makes Nancy seem so believable and unthreatening that it's hard to believe she's not what she says she is and she acts grieving so well that your heart breaks for her. Coming from a family of writers, I agree with her professional publishers opinion: Say what you like about their personality but not their work! Her line about her father: "Just how famous can you be in Syria?" means the plot feels very relevant to right now and you could picture the action unfolding today among the conflict in Syria. She and Johnny constantly question each other as they decide how much to trust the relationship they find themselves in. Does this film do anything but leave you with questions? The same questions keep occuring throughout the film whether it's in a family or political setting - why do people lie, who do they lie to and for what reasons? There are clues to the plot within the marriage/friendship triangle of Emma, Ben and Johnny, which help Johnny to track down the answers he's searching for. Setting it in both MI5 and the country house where Emma lives provide a contrast to the use of cars, phones, computers and stops it being too slick and not character-driven enough.
Ewen Bremner as Rolo.
There's a pivotal moment where Johnny talks to his associate Rolo about the file, Nancy and who they should trust. The sense that something has gone very wrong continues when they reveal that Ben had lost faith in the government and wanted to "throw a bomb in the water and see where the dead fish land." Essentially the film is exploring who is a fish and who is part of the conspiracy and builds to a climax where Johnny is forced to uncover the truth. I saw Rolo as being partly a plot device to allow us to know what Johnny is thinking and he also establishes Nancy's importance in the plot by questioning her motives. The main theme is who to trust but Page Eight avoids the cliche of a jaded spy who uncovers corruption and instead is a clever and insightful film that leaves you with many questions and the unsettling feeling that things aren't exactly what you thought they were. The parallel storyline is really convoluted at first but eventually it weaves together and you understand what the writers mean. My only real criticism is of Ralph Fiennes performance as the Prime Minister, who comes across as just too much of a caricature and too threatening to be taken completely seriously. Maybe working with Michael Gambon brought his Voldemort persona out in him?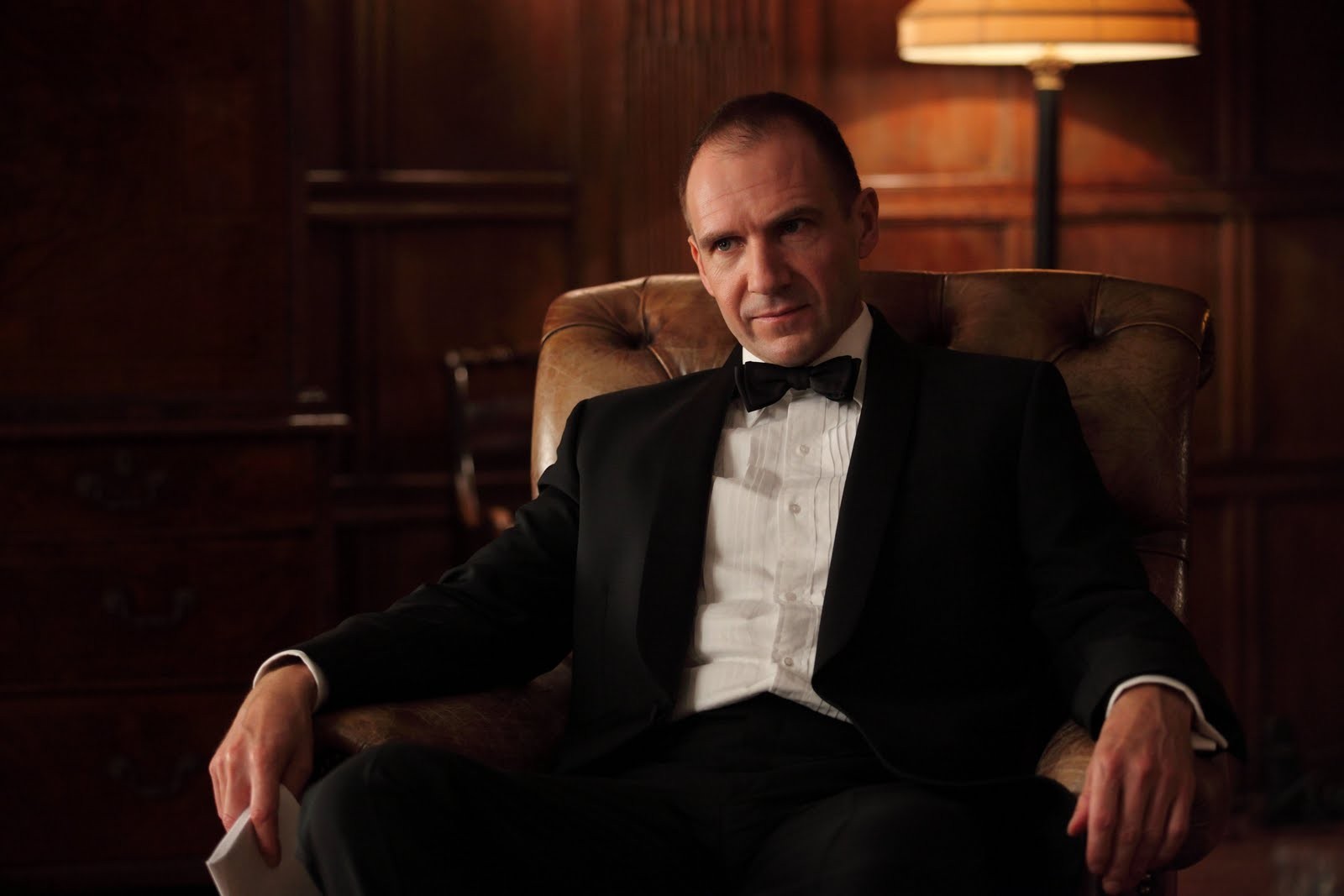 Please leave a comment below and let me know what you think of Page Eight if you've seen it - I definately recommend it! Who was your favourite Dumbledore and what do you think of Rachel Weisz? In my opinion she's a lot less annoying than Rachel from Glee and a better actress than Rachel McAdams!
Jessica x