Let me first say that I really expected to like Up in the Air. I'd seen the trailer and thought it looked promising and when I realised it was directed by Jason Reitman (Juno) I was excited to see it. However, I didn't make it to the cinema while it was on and recently, I finally got round to getting hold of the DVD. That was where the disappointment started.
George Clooney, despite giving a good overall performance, wasn't enough to make it worth sitting through and I didn't find myself particuarly warming to either of the two female leads. Natalie (Anna Kendrick) and Alex (Vera Farmiga) both play strong career women and while I would normally be saying how good it is to see female roles like this, I just didn't like them. I don't know why, whether it was the writing or the actresses but I didn't enjoy their scenes and, crucially, didn't care about their characters. The film is set in the transient world of frequent flyer privileges, airport lounges and hotels. Ryan Bingham (Clooney) is a man who fires people for a living, and when I say "living": the guy is rich. Rich because of other peoples misery. Maybe I've found the reason I don't like this film. Personally, I could not bring myself to care about these characters problems because I saw them as being nasty, uncaring.... I could go on.
Ryan with protege Natalie.
My other issue with it is that it mixes comedy and drama in a way that isn't very successful. I subconsciously associated it in my mind with the type of comedies which I just don't like because I don't think they're funny. Hall Pass anyone? Couple's Retreat? These films are churned out in the millions by the studios; they're not artistic or entertaining but nobody cares because men in suits are making money. The sad thing is that I think it could have been good. The plot is thoughtful but it somehow doesn't work. As soon as I understood his job I disliked Ryan Bingham, I was irritated by Natalie because she comes across as a know-all, in much the same way she acted as Jess in Twilight. Also, much of the action takes place in corporate America; a place I have quite little interest in and less interest in the problems of people who are portrayed as selfish.. On the other plot threads: Alex and Ryan's "relationship" was frustrating and the part about his sister's wedding seemed to belong to an entirely different movie. Also, the blatant stealing of the Amelie gnome idea just infuriated me. It's been in train adverts for God's sake, it's no longer original! I won't spoil the ending although I may be doing a pretty good job of convincing you not to watch it but lets just say it didn't improve my opinions on the characters and felt like a let-down as it wasn't satisfying and jarred with the rest of the plot.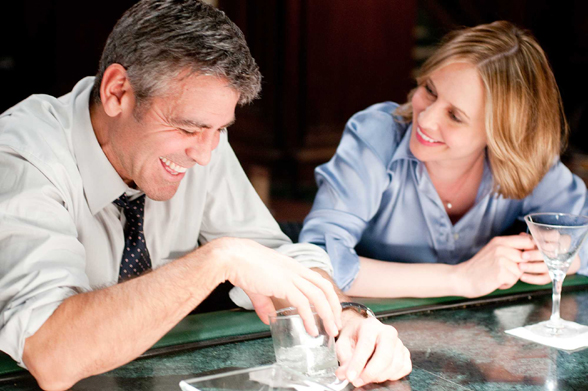 Aviation Addicts Anomynous.
 Reitman stated that the movie is about the question: "What if you decided to live hub to hub, with nothing, with nobody?" Well, my answer to that is you get a crappy, boring movie. Connections with people, relationships, moments shared are what make life and scripts interesting. The slick shots of wheeled luggage, power suits and well-heeled business people boarding planes get dull and then the viewer is left with very little, bar popcorn. Which I did not even get as I saw it at home. Soul-sucking corporations: 1. Jess: 0. For some obscure reason it did very well, gaining six (SIX?!?!) Academy Award nominations. Well, there goes my faith in the Oscars as a cultaral barometer but I am on the side of the guys from the Chicago Tribune who descibed it as a "slickly crafted disappointment." Someone is still sane apparently. Another critic called it "unapologetically tidy" which is a polite way of saying boring. And I was bored watching it; I honestly was bored out of my mind which I think is worst thing I can say about a film.

Would it kill her to smile?
 That was a fun review to write; sometimes it's good to have a rant. Please let me know what you thought of the film - if it happens to be your favourite just ignore me! I've decided to rate it
1 star out of 5
, as their probably are worse films. What have you seen recently that you've really disliked?
Jessica x